Bribie Island Cruise
Book to join our Bribie Island Day or Lunch Cruises
Brisbane Cruises is the longest running family owned company servicing the Brisbane River & Moreton Bay areas. Brisbane Cruises started operations in 1987 and to this day is owned and operated by the well-known Captain Jim Kelly.
Our crew are committed to making sure each and every passenger enjoys their cruise on the Lady Brisbane. Meet our crew: Captain Jim, Teresa, Jacob, James, Anne, Mark, Cheryl - we're a happy bunch!
We pride ourselves on our commitment to continually improve our customer service, provide employment for our local community and support local suppliers.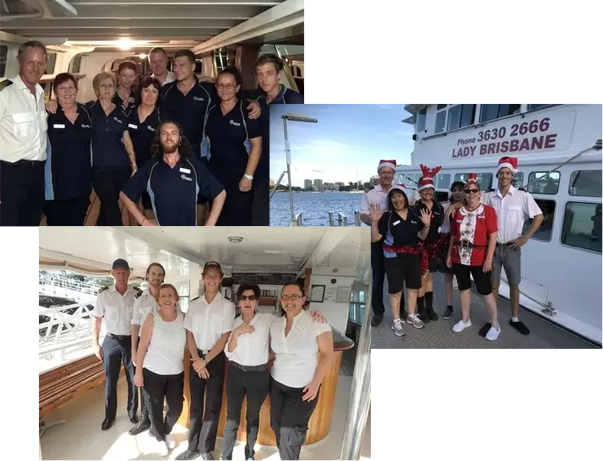 Our ongoing success is based on the following:
Our detailed and extensive knowledge of local waterways
We employ our own shipwright builders, managers and highly trained staff
We take pride in our vessels and ensure they are maintained to a high standard
Our safety procedures are continually updated
All of our food is fresh and is sourced locally
We have the fastest service to Saint Helena Island
We have always operated above the standard crew number requirement
Our outstanding safety record means our passengers can feel safe while travelling with us
All vessels have internal stairs, ensuring the comfort and safety of our passengers in the event of rain
Lauren Penny, who is part of our historical team, was awarded the 1999 Brisbane City Council prize for outstanding colonial research, which unearthed BUSHRANGER Captain Starlight, alias Walter Gordon, as an inmate at Saint Helena Island